The Kato Memorial Bioscience Foundation
Outline of the Foundation
The Kato Memorial Bioscience Foundation was established in 1988 in conformity with the desire of the late Dr. Benzaburo Kato, the founder of Kyowa Hakko Kogyo Co., Ltd. (current Kyowa Hakko Kirin), to promote the progress of bioscience.
By offering research grants, the Foundation supports and encourages young researchers who aim to conduct basic and creative studies in Japan or to attend international scientific meetings.
The Foundation also provides financial supports for scientific congress held in Japan. By 2012, the Foundation has provided grants to 544 research projects, 667 participants in international meetings, and 150 conferences in the fields of medical science and biotechnology. The total amounts of the grants have reached 1.26billion yen.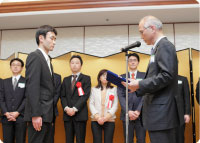 award ceremony